Actor Yomi Fabiyi is not backing down any time soon on his consistent and dogged fight on behalf of his colleague, Baba Ijesha who has been accused of sexual assault by penetration and defilement of a child.
In a post shared by Yomi on his Instagram page this morning, Yomi says any government official, lawyer, human rights worker, and diplomat who doesn't see beyond the sexual assault of Baba Ijesha such as the crime committed by the adults who organized the scene of the molestation captured on CCTV are tragedies to the justice system.
Here's what he wrote;
"Any Human Rights NGO, Lawyer, Social Worker, Diplomat, Government Representative, Police, Member of the Bench, Informed Adult etc that see SEXUAL ASSAULT by Baba ljesha but didn't see over 7 or more Serious crimes committed by other adults in the cctv against the child and laws of Nigeria is a tragedy to honest justice system, they are uninformed, bias and a threat to peace.
A fight and peaceful protest for full enforcement of the child protection laws, protection of fundamental rights is a battle for the soul of this country. We all MUST seek justice for the child and stand by equal rights and justice. Human Rights violation of any form is A THREAT TO PEACE AND DEVELOPMENT in Nigeria."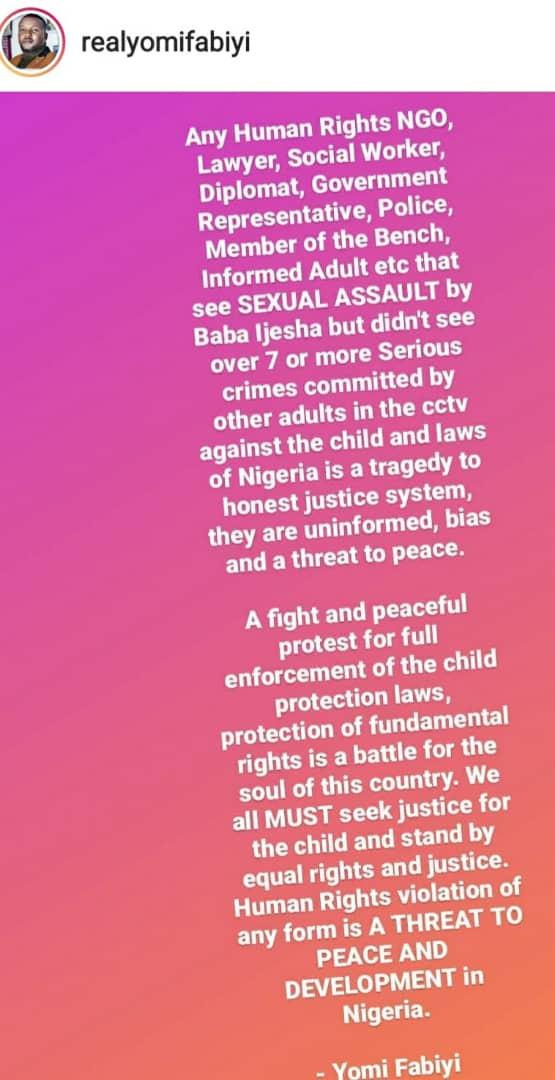 Related posts
Subscribe
* You will receive the latest news and updates on your favorite celebrities!
Instagram
Instagram has returned invalid data.